Last night I dreamt that I was working in a big flour factory, that also baked breads and cakes.
I was on an assembly line where I was frosting chocolate cakes.
I was quite adept at it - but ended up eating a lot of the frosting.
Then the line went down and we were all sitting around looking for things to do.
So I ate more - cake and frosting.
Then I met the owner of the business and he was quite taken with me and gave me a bag of birdseed.
What does this mean?
The fall decorations are out of the house.
Next - I go outside and take the pilgrims down.
: -)
I wanted to share my Christmas list with you - things I've been hankering for.
Been hankering for this since my 'mall day'.
See - that's the trouble with going to the mall!
You want things you never even knew existed before you went.
Like Coach perfume and Elmo underwear.
Selah.
One spray and I knew I found my new fragrance.
Not that I'm a big fragrance girl.
My bottle of Clinque 'Happy' has lasted me three years.
I usually smell like dirt, grass, onions and Pinesol.
I'm ok with that.
This beauty.
KitchenAid's new 13 cup food processor.
I swoon when I think about it.
I eat a lot of veggies.
A. LOT.
Imagine the ease in which I could slice my cucumbers and julienne my carrots.
It's enough to make a grown woman cry.
My floor would no longer be covered in cauliflower when I chop.
*sniffle*
I'd love a $5000 gift certificate to this place.
I'm not a Kindle/Nook kinda girl.
I like turning real pages, I like smelling books, highlighting them and using them to decorate.
I understand the Nook has it's value - don't get me wrong.
I'd LOVE a shopping spree at Barnes and Noble.
*a single tear*
Anything, and I do mean anything from this place:
Even though I've been pinning cute outfits on Pinterest, talking about pencil skirts, and wanting Coach perfume - I'm a Life is Good hoodie kinda girl at heart -
that really doesn't mind smelling like onions.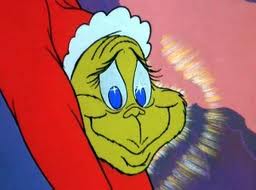 Something happened yesterday as I looked out my backwindow and saw my orange lights glowing, and my pumpkins sinking, and my pilgrims illuminated - something that I'm
not quite sure of -
I want nothing for Christmas now.
And I'm not really planning on giving any gifts to my friends this year.
I went over to the side of the fridge where my Christmas Gift Giving list is and I took it off the fridge, looked at it, and threw it in the garbage can.
If you are my friend reading this - please don't get me anything - please give that waitress a big tip, buy someone's groceries, shovel someone's walkway -
That's a gift I would love for you to give me.
I've got a big heart - I know that - and giving makes me giddy.
GIDDY.
I love giving gifts and I shan't lie - I like opening a gift or two on Christmas Eve around the tree.
And there's not a thing wrong with that.
But somewhere between lunch and dinner yesterday - somewhere between my heart and my mind -
it all seemed so silly.
It all seemed so 'this is what we do every year' - and I'm opting out.
You can't imagine the freedom I feel.
I'm decking my halls today - and the Christmas music will play - there will be some gluten free cookies floating about in the days to come -
My present this year is going to 'be present'.
Present.
Here.
Now.
Giving 100% of my attention to whomever it is I'm with - be it the BoyChild, Glenco - my other family members, friends.
Giving my time, giving a great attitude, giving my sympathy, giving my encouragement, giving, giving, giving.
And promising myself that I'll continue to be that way - long after the needles are vacuumed out of the carpet, long after the boxes of ornaments are tucked safely away in the attic for another year.
Be present.
I think that's an awesome present.
And much harder to give than a pair of socks.
Amen.